Services
A summary of what I offer for all of your surveying needs.
Projects
Maine Towns
Some of the towns I have recently completed projects in:
Albany, Andover, Bethel, Bridgton, Buckfield, Casco, Greenwood, Harrison, Hebron, Lovell, Newry, Otisfield, Oxford, Paris, Rumford, Stoneham, Sumner, Waterford, West Paris, Woodstock.
Click Here for a listing of towns that I have done work in. My service area is the entire state of Maine.
Contact Info
Cell Phone: 207-749-4630
Home Phone: 207-743-7541
Email: lostcornersurvey@gmail.com
Address:
22 Cherry Dr
Norway, Maine USA
04268
---
Photo Gallery
Click Here to view Maps or Photos
My Services
All estimates are free including on-site consultation if needed.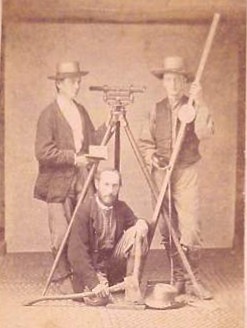 Surveying services required can include:
Uncovering difficult to find, buried, or otherwise obscured property corners.
Marking the lines between corners so that buyers/sellers, owners or abutters can easily follow the boundary and clearly understand its location.
Compute the location of missing corners and re-mark those corners with permanent monumentation.
Provide a map or plat of the property for future reference and/or planning purposes.
Provide a legal description of the property for insertion in a deed for a current or future conveyance.
Boundary Surveys

Knowing the location of the boundaries of a parcel of land is very important when buying or selling property, making improvements to the property, erecting a fence, timber harvesting, or if you feel an abutting property owner may be encroaching in some way upon your property. Boundary surveys typically include an entire property or they may be just of one or more lines of a perimeter.

Subdivisions and Parcel Splits

Whether a piece of land is being divided into multiple parcels to be offered for sale, or a portion is being sold to and abutter, or sold or gifted to a family member, a surveyor is needed to ensure that the newly created lots meet the dimensions and areas required for the creation of a new lot.
It is also essential that a clear and concise legal description be written to describe the new lot.
The boundaries and corners of the new lots are clearly marked.

Flood Insurance Surveys

If your property is located on or near a body of water, it or a portion of it, may be within what the Federal Emergency Management Agency (FEMA) has determined to be a "Special Flood Hazard Zone". If this is the case a lender will require that you purchase flood insurance from the National Flood Insurance Program.
If you believe that that your home or other valuable structure is not at risk of flooding you can hire a surveyor to complete an Elevation Certificate as documentation for obtaining a Letter of Map Amendment (LOMA). This is a document from FEMA that essentially exempts the structure in question from the requirement of having costly flood insurance.

Mortgage Loan Inspection (MLI)

This is a document, sometimes called a "mortgage survey", that is required by some lenders before issuing a mortgage or a refinance. Although not a true survey of the property, it provides the lender with an opinion from a land surveyor as to whether there are any apparent encroachments by abutters, utilities or other entities upon the property, and that any buildings, driveways, well, septic system and other improvements are in fact located on the property and are in compliance with local codes and ordinances.
MLI's are usually requested by the lender or by an attorney doing title work on the property, because you will be paying for this service, you may hire the surveyor of your choice

Topographic Surveys

If you are an architect or engineer I can provide you with a map and/or CAD file of a parcel showing the contours of the land, spot elevations, and any other requested or pertinent data you may require to perform your duties.

Aerial Photo Control

I have had many years of experience working with multiple forms to provide horizontal and vertical aerial photo control for areas as large as entire municipalities.

Construction Surveying

I have worked on the layout of large and small commercial developments, industrial projects, residential and condominium developments. I have considerable experience in the layout of new roads, including providing cut and fill stakeout.

ALTA Survey and other types of As-Built Surveys

I have performed these types of surveys for numerous national and local businesses for the purposes of new construction and for large real estate transactions including the sale of the International Paper Company Androscoggin Mill and the sale of The Sunday River Ski Resort.

Expert Witness

I can provide my expert opinion in the resolution of possible title issues involving boundary disputes and right-of-way issues, including the review of other surveyor's work.